From Murder Will Out! A unpublished manuscript by the late Glenn H. Waight
The Triple Slayings
A Chicago woman, looking for antiques, walked into a Dresden Ave. furniture store late in July 1973, and came upon two badly beaten bodies and a severely injured child.
She had stumbled upon one of the city's worst murder cases -- a horrendous crime which remains unsolved today.
Dead were Earl A. Tweed, 75, store owner, and Mrs. Arthur (Linda) Morris, 22, who was four months pregnant. Her daughter, Angela Lynn, 4, was battered and unconscious, dying shortly afterward.
Tweed of 3rd St. had operated the National Furniture and Upholstery Repair Co. since 1912 when he came to the city from Steubenville. Police surmised Mrs. Morris went into the shop and came upon a robbery in progress.
Mrs. Frances Dugan of Chicago, a nurse, walked into the store just before 1 p.m. July 30 -- a Monday -- planning to inquire about antiques. Discovering the bloody scene, she ran outside and shouted to someone across the street, "Call the police! Something terrible has happened!"
A telephone call was received at police headquarters within minutes. Since Tweed was lying several feet away from the woman and her daughter, he was not seen immediately by first arrivals, so the phone call reported only two victims.
Dresden Ave. was a busy thoroughfare leading northwest from the Diamond to the Route 11 Freeway north to Youngstown and Route 7 south along the Ohio River.
MRS. MORRIS HAD apparently gone to the store to talk with Tweed about renting a house. She was wearing a blue tee shirt and checked pants. Her purse lay in a smear of blood.
Her body was about 30 feet from the entrance of the store which was crowded with furniture and antiques. A narrow aisle led to an office at the rear. She was on a mattress that had apparently fallen from a leaning position. The little girl lay nearby.
Tweed, attired in dark trousers, dark shirt and dark shoes, was found down a dim aisle leading to an open space and washroom. The body lay about four feet from the basement stairway. He had been stabbed and beaten. On a chair were pieces of meat and bread which Tweed may have been preparing for his lunch.
Amid blood on the floor were a serrated steak knife, a wrench and a claw hammer. Police said the knife was used to stab Tweed 21 to 28 times in the chest.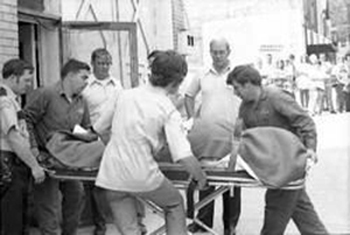 Later in the afternoon, a telephone call to police reported papers strewn on outdoor steps and along the Freeway fence a block from the furniture store. Patrolman Jim Buckley went to the site, finding papers of Tweed's along with his wallet which contained no money.
The killer, rushing from the store, had bumped into a young boy whom he grabbed, demanding to know where he lived. The boy wouldn't or couldn't answer, and the man ordered him to tell -- "or I'll kill you!" The youth twisted loose and raced from the area.
It was believed the man then ran through a vacant lot adjacent to the store toward the Freeway and the steps where Tweed's items were found.
Both Mrs. Morris, a native of Alliance who resided at Salineville at one time, and her daughter had severe bruises and multiple lacerations. The husband and father, Arthur Louis "Louie" Morris, had started work with the city street crew the previous month.
Morris was told of the deaths and taken to City Hospital by Mayor Norman Bucher and others. The dead woman's mother-in-law, Mrs. Lettie Morris, learned of the tragedy while shopping downtown, and hurried to the store, knowing Linda was to visit Tweed. When police described Linda's clothing, Mrs. Morris burst into tears.
Mrs. Dugan had remained at the store's entry until police arrived. Her husband, Daniel, stayed in their car because of a leg problem.
A man residing in a bungalow owned by Tweed at the rear of the two-story brick building said he heard nothing during the lunch hour, and saw no one leave through the basement door which apparently had not been opened for some time. A high window at the rear of the store was open, but was kept that way during hot weather.
Tweed had been a member of the First United Methodist Church for 37 years, belonged to its choir and a men's Sunday School class. He earned honors in the Eagles Lodge, and belonged to Masonic orders and the Moose lodge. Survivors included his wife and a daughter.
Detective William Devon headed the original investigation since Det. Capt. Kenneth Mooney was on vacation. Working with Devon were Chief Americo Radeschi, Detectives Kenneth Montgomery and Charles Coen and the rest of the force.
THE COLUMBIANA County Sheriff and Prosecutor assisted, along with four men from the Ohio Bureau of Criminal Investigation. The BCI agents conducted a thorough search of the store and Dresden Ave., collecting more than two dozen items which were checked for fingerprints, blood analysis, hair evidence and other clues.
A rough description of the slayer was circulated across the region. Members of the detective department flew to an Ohio city to quiz a suspect charged in another case and who fit the description. The trip was fruitless.
The Fraternal Order of Police of East Liverpool and Wellsville jointly offered a $500 reward. It has never been collected.
But the case is still open. Officers who checked out leads during the 25 years since, continue to hope that some day the killer will let slip a wrong word or finally confess or be connected to evidence bringing him to justice.
A separate source of information:
http://www.youtube.com/watch?v=EuvQeJhehtw
---