President's Report originally appeared In HILLS AND KILNS A Newsletters of the East Liverpool Historical Society March 2011 Vol. XXX No 1.
It appears that that there are two different spellings for the surname: Surls and Surles. We have used both here since various sources we found used both.
HARRY H. SURLS
PRESIDENT'S REPORT
By Timothy R. Brookes
With the sesquicentennial celebration of the Civil War soon to be underway, a little voice, belonging to Joan Witt, urged me to do a series of brief articles on some of our local participants in that conflict.
A recent acquisition of two tintype photographs, fifteen years after I first saw them, suggested the first veteran to be so honored.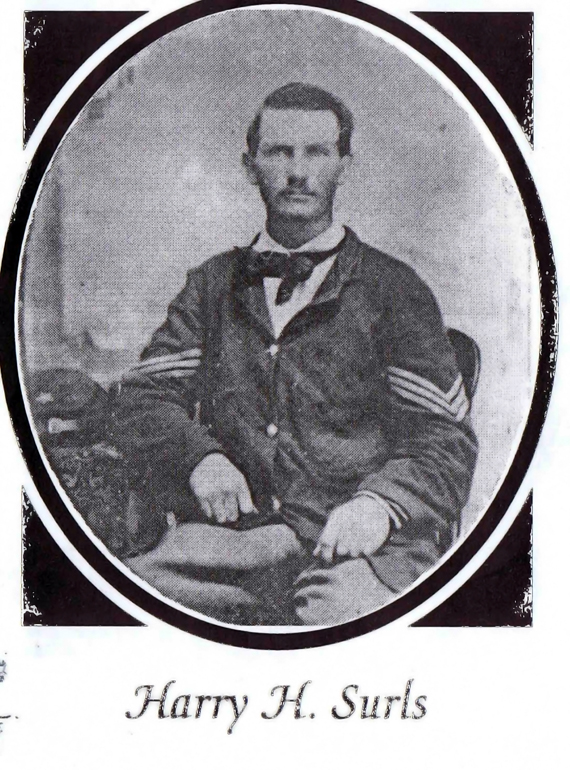 Born in Steubenville in 1842, Harry H. Surls was twenty years old when he enlisted for 3 months in April, 1861. In mid-June here-enlisted in Co. H of the 5th Ohio Volunteer Infantry in Cincinnati where he was working on a steamboat.
The Fifth saw more of the war than most regiments. They started their campaigning in Western Virginia, and later participated in the Shenandoah Valley campaign where they were outmarched by Stonewall Jackson's famous army. Suds was captured in the valley but helped hide the regimental flag from the Confederates until he and several other comrades made their escape.
Battle honors of the 5th included Winchester, Port Republic, Cedar Mountain, Antietam, Chancellorsville and Gettysburg where Harry received a slight wound of the chin.
In the fall of 1863 the Fifth, as part of the 12th Corps, was transferred to the western theater where the Union defeat at Chickamauga had created manpower problems.
Harry related in later years how he looked up his younger brother, William, a near-starved private in the Second Ohio who would later be awarded the Medal of Honor.
After participating in the battles of Lookout Mountain and Missionary Ridge, the two brothers made a sad pilgrimage to the Chickamauga battlefield where another brother, Alex, had been killed at William's side. They were able to locate his unburied, skeletal remains by means of a shirt that had been made by their mother.
Harry completed his three-year enlistment and returned to Ohio. Shortly after the end of the war, he and William moved to East Liverpool where he followed the trade of a brick-layer, his firm being in great demand as the pottery industry expanded.
In 1876 Harry lost his right arm in an accident at his brick-yard. Unable to follow the masonry profession, he engaged in the insurance business and also served as city postmaster for eight years, a position later held by his brother, William.
Harry H. Surls was a Charter member of Gen. Lyon Post No. 44, Grand Army of the Republic and served as quarter-master until his untimely death in 1888 at the age of 46.
He is buried at Riverview Cemetery not far from his more famous brother.
WILLIAM H. SURLS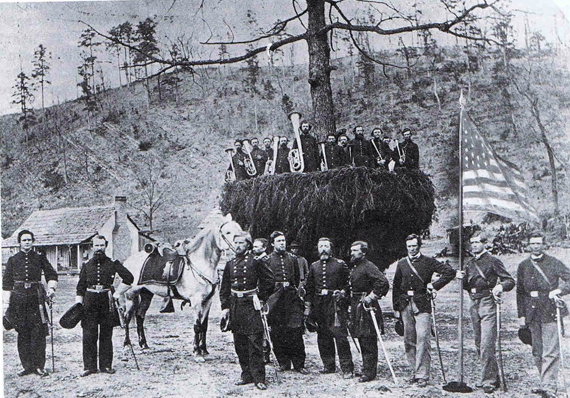 William H. Surles, who was awarded the Congressional Medal of Honor, bearing the colors following the battle of Chickamauga in Tennessee.Photo from The City of Hills & Kilns, Life and Work in East Liverpool, Ohio, William C. Gates Jr.(1985) p 71.
The local men who joined Company A, 115th Regiment fared much better. Although seven men from the township did die of disease, this unit spent most of the war acting as provost guard for railroads and various defenses in Cincinnati, Ohio and Murfreesboro, Tennessee. They participated only in minor skirmishes. As a matter of fact, Company A under Captain H.R. Hill had "excellent quarters" in the Murfreesboro area. One local man, William H. Surles, who fought in the battles of Chickamauga, Lookout Mountain, Atlanta, and others, received the Congressional Medal of Honor for "conspicuous gallantry" at the battle of Perryville, Kentucky on 8 October 1862.139.
THE OBITUARY OF WILLIAM H SURLES:
http://familytreemaker.genealogy.com/users/v/e/s/Crispin-E-Vessell/GENE1-0009.html
WILLIAM H SURLS- Prominent citizen of East Liverpool, Ohio. He served as postmaster for 13 years. He was a past department commander of the Ohio G.A.R. He was born in Steubenville, Ohio Feb 24, 1845. He was the youngest son of John and Emily Surles. He won the Congressional Medal of Honor for saving the life of his commanding officer in the Battle of Perrysville. He was a member of the First Methodist Episcopal Church. He was married to Sarah Surles, he had one son-Charles F Surls, a daughter- Mrs James S Rhinehart, all of East Liverpool, Ohio. His grandchildren were-Lt. Allen Surles, Richard Surles, Grace Surles, Mrs Nessly Porter, and Miss Natalie Rhinehart, all of East Liverpool. He had a sister, Mrs Charles M Fairman of Pittsburg, Pa. He is buried at Riverview Cemetery, East Liverpool, Ohio. He died March 19.
The Medal Of Honor Citation for William H. Surls.
http://www.homeofheroes.com/moh/citations_1862_cwq/surles.html
Gravesite for William H. Surls
http://www.homeofheroes.com/gravesites/states/pages_pz/surles_william_oh.html
Honoring a veteran
http://www.reviewonline.com/page/content.detail/id/536694/Honoring-a-veteran.html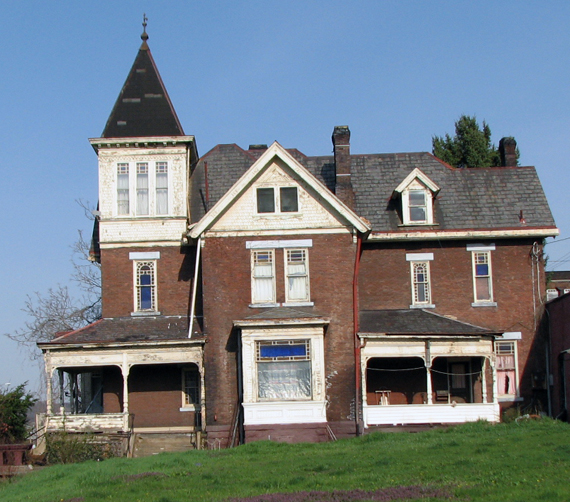 This house was at one time owned by Will Surles who was postmaster in EL at the turn of the last century. He was also a Medal of Honor recipient as a result of his Civil War service. Timothy Brookes
The above house sits on what was originally the north side of East Third Street though that portion of East Third Street no longer exists. It may have reached the stage of disrepair where it is no longer practical to try and repair or restore.
Some additional interesting information about the Medal of Honor.
Medal of Honor: Profiles of America's Military Heroes from the Civil War to the Present by Allen Mikaelian:
http://books.google.com/books?id=wDcMQvLr3u0C&pg=PR20&lpg=PR20&dq=Will+Surles+Medal+of+honor&source=bl&ots=zX371xyDbb&sig=Z3w4u-qAn0y347v5yutbG3qeCsI&hl=en&ei=5kipTaPuIZOcgQeFpszzBQ&sa=X&oi=book_result&ct=result&resnum=6&sqi=2&ved=0CDUQ6AEwBQ#v=onepage&q&f=false
---