This article originally appeared in Murder will Out! A Unpublished Manuscript by the late Glenn H. Waight.
Estranged Wife Shot
Nancy Lee Boyd
A lie detector test pointed the finger of guilt at the husband of a pretty 18-year old city woman whose body was found along Beaver Creek in the autumn of 1961.
Nancy Lee Chandler Boyd was beaten and shot to death along the lonely creek road in the early hours of Nov. 5, her corpse not found for ten days.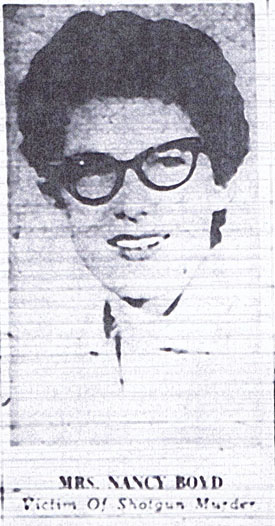 Picture from Microfilm reproduction of the East Liverpool Review, November 16, 1961.
She had been beaten, killed with a shotgun blast to the head and left downhill from the lane, clad in pedal pushers and a leather jacket.
City police received a telephone call Nov. 15 from a "Roger Smith," possibly a hunter, who reported finding a body and saying he would meet officers at the site. He never showed up.
Her estranged husband. William Boyd Jr., 23, of 1940 Pennsylvania Ave. Ext. was among the suspects questioned by Sheriff Russell VanFossen and city police. Boyd, who been a ware boy at the Hall China Co. and parttime laborer, had been separated from his wife since August.
She and their 11-month old daughter resided on Dresden Ave. with her parents, Mr. and Mrs. Frank Chandler. Investigation revealed a pattern of quarrels and tension between the husband and wife over care of the baby and her being seen with various other men.
Boyd was born in Wellsville, lived with his grandparents then his father after his parents obtained a divorce in 1946. He quit school in eighth grade to work for a pony ride in a circus which passed through town.
When the circus broke up in Florida, he held odd jobs in California, Cleveland, and elsewhere, including the Homer Laughlin China Co. and a local service station. He met Nancy Lee at Lake Marwin where he had gone swimming.
They began seeing each other, and she became pregnant so he married her in 1960. The pair were residing in a small house near her parents on Dresden Ave. when their strained relationship brought a breakup Aug. 10, she going to the Chandlers, he to his father's home where a younger brother, Frank, also stayed.
The baby had been taken under custody of Juvenile Court, and placed with Mr. and Mrs. Walter Ferrebee of Harvey Ave.
Sheriff VanFossan quizzed Boyd closely about the killing, and he agreed to take a lie detector test. Two agents were brought from the Ohio Bureau of Criminal Investigation with polygraph equipment, and administered tests to Boyd and two other suspects.
After the lengthy testing Nov. 21 at the County Jail and intensive grilling by VanFossan late afternoon and that night, Boyd admitted the murder, and signed a 26-page confession. His statement and subsequent trial testimony revealed the stormy marriage and its bloody end in darkness along the creek.
Boyd had been at a farewell party irkthe East End honoring a friend leaving for the service. There was considerable drinking. The group later went to Higgs Inn where Boyd saw Nancy Lee at the bar. They spoke, according to witnesses, she saying, "Hello there, Mr. Boyd," he answering "What d'ya say."
Later, Boyd recounted, he didn't accompany the group to Hoge's restaurant but drove out by the restaurant, and later stopped at a billboard near the Chandler house. He saw Nancy Lee park her car, so he drove over and picked her up and began to drive around, "just talking." It was about 3:30 a.m.
They traveled to the Beaver Creek road to finish some beer he had in the car. It was here he discovered a flat tire, and started to change the wheel. As he worked, they began talking, about different things, including the baby and her intention to have her aunt adopt their 11-month-old daughter.
"YOU'LL NOT ADOPT that baby to anyone," he testified, "that baby is mine!" He said she then shouted it wasn't his, "and that's when I threw the jack handle . . . I lost control of myself."
Earlier he had told officers she was getting a can of beer from the car while he was replacing the wheel, and he commented that his hands were soiled from the work. "She laughed . . . and that was when I threw the tire tool."
He claimed he didn't remember hitting her again, but when he sat her up, there was a lot of blood on her. Unable to find a pulse, he dragged her over the hillside -"I was scared" -- and picked up the beer cans, tossing them in the rear of the car.
He saw his 12-gauge shotgun on the back floor. Loading it, he went down to where she was lying. He fired it at her head.
Boyd said he returned home, changed clothes and burned the bloodied garments along with Nancy's purse. That evening he went back along the creek road throwing away articles he had found in the purse.
As part of the Prosecution's case in the March 1962 trial, an aunt of the victim who lived near the Boyds described an incident in the home. She said she heard screaming and ran over to find Boyd holding his wife down, pounding her head on the floor.
Nancy's mother, Mrs. Chandler told of seeing Boyd on the street talking to Raymond Campbell, then under indictment for shooting his wife to death in their Beechwood home in 1960. Mrs. Chandler said Boyd later told Nancy Lee he "would do the same" with her if he caught her with another man.
"I don't know why I shot her. She was dead," Boyd said during the preliminary hearing in Municipal Court where he pleaded not guilty to first degree murder.
A Harvey Ave. friend of the Boyds testified he had been intimate with Nancy Lee when the husband was working in Cleveland. He had discussed this with Boyd one time they were fishing at Grimms Bridge, and Boyd, he said, "didn't seem to care."
Franklin, the younger Boyd, testified he had seen Nancy Lee with a man he didn't know downtown at the Roma Cafe the night before the shooting. He said his brother had awakened him the next morning and told him he had killed somebody. Later he told Frank it was Nancy Lee.
Defense attorneys Robert Kapp and Ben Berman argued before the jury of ten women and two men that both Bill and Nancy Lee had been drinking, and that he became enraged with her when she threatened to place their baby up for adoption.
PROSECUTOR WILLIAM Brokaw urged the panel to convict Boyd of first degree mur er for which the penalty was the electric chair. Kapp and Berman asked acquittal or a verdict of manslaughter which carried a sentence of one to 20 years with eligibility for parole in a year.
The jury deliberated only two and a half hours March 21 before returning a verdict of manslaughter -- "unlawfully taking a life." Before reaching accord, they took several votes and requested clarification of the various possible verdicts from Judge Raymond Buzzard.
Boyd was clearly pleased to escape execution. "I feel like I want to cry," he told his lawyers, smiling broadly for the first time during the trial.
The jury's conclusion seemed to echo the result of the trial a year earlier when Raymond Campbell was found guilty of manslaughter for fatally shooting his wife over alleged indiscretions.
Additional information
(apart from Mr Waight's manuscript above) from the East Liverpool Review November 16, 1961 Story.
Authorities Talk To 50 During Quiz.
Shotgun Blast Ruled Cause of Death of Nancy Boyd, 18
Sheriff Russell J. Van Fossan and police chief Americo J. Radeschi were to confer at City Hall today to map out strategy in a joint investigation of the shotgun death of Mrs. Nancy Lee Chandler Boyd, 18, of Dresden Avenue ext., whose body was found Wednesday afternoon along Beaver Creek near the Pennsylvania state line.
The chief and the Sheriff directed a force of deputies and city officers who worked through the night, talking with nearly 50 persons in their efforts to piece together her movements since she left home nearly 2 weeks ago and find a motive for the brutal killing.
The teenage mother was discovered lying about 10 yards down hill from the roadway -- an extension of the lower Beaver Creek Road which was formally a railroad right right-of-way. Indications were that she was dragged from the roadway.
Mrs. Boyd, wife of William Boyd, had been missing since November 4, and Dr. R. C. Costello, Columbiana County deputy coroner, said at the scene yesterday she appeared to have been dead over a week, a conclusion verified later in an autopsy.
She was wearing slacks and a type of gold colored leather jacket which was her attire when she disappeared from her home. An Onyx ring was on a finger.
Sheriff VanFossan and Chief Radeschi, working together in the probe, said the discovery of the body was first reported by telephone to city police headquarters by a man who gave his name as Roger Smith and who said he made the find while hunting in the area.
The man said he had to take a woman into East Liverpool, and would return to the site to meet the officers. However, no such man arrived while the police were there. The chief appealed to the man today to come forward and aid in the investigation.
The telephone call was received at 12:20 p.m. by Patrolman Paul Lemal, desk officer, the chief said.
The man said he was calling from an outdoor phone booth "at the crossroads in Calcutta" -- apparently the point where the Calcutta Smiths Ferry Road intersects state Route 170.
Chief Radeschi and Capt. Robert Pyle hurried to investigate in Capt. Pyle's private car after the Sheriff's office had been notified. The mysterious caller gave the department no cause for the woman's death, simply saying that he had found the body, and it was believed initially she may have been the victim of a traffic mishap or some other sort of accident, the chief said., The caller did not give his address.
The body was found lying near a small tree, about 50 yards from a wide curve in the Creek. Leaves covered the wooded area, and there were large water filled depressions in the muddy road.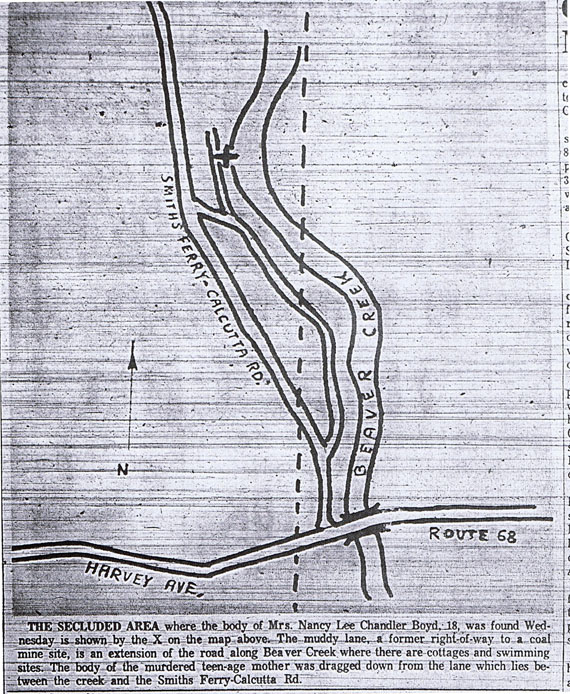 Officers said they were black marks on the slacks, which may have been grease or some other substance, and laboratory tests were slated after the autopsy.
The body was lying with head uphill and apparently had been dragged feet first down the road.
Floyd Hall, uncle of the dead girl made the identification last night at the Dawson Funeral Home, but delayed telling her parents of the tragedy because both are cardiac cases and it was feared the shock might aggravate their condition. They were told after the autopsy.
Mrs. Boyd had made her home with her uncle and aunt -- Mr. and Mrs. Hall -- who reside along Routes 7 and 30 in California Hollow at a point near the Pearl China Co. The home of the .parents, Mr. and Mrs. Chandler, is nearby:
The dead girl's aunt Mrs. Millicent Hall, had filed the missing person report with the East Liverpool police department last Friday at 8 p. m. She said the girl had been missing since Saturday, Nov. 4, at 10 or 11 p. m. Earlier, the disappearance had been reported to the sheriff's office and other area law enforcement agencies.
Dr. William Kolozsi, Columbiana county coroner, announced after the autopsy lasting over two hours that death had been instantaneous "from a shotgun blast in the left side of the head."
He said the autopsy findings indicated she had been killed the night she disappeared " and at a place elsewhere from where the body was found."
He said she apparently had been dragged over ground that contained coal as there were particles of coal embedded in her clothing.
The place where the body was found is off an old right-of-way to a former coal mine operation and tipple.
The road is considered a "lovers lane" and a resident among the few homes in the vicinity said parked couples were observed frequently.
The coroner said the body was fairly well preserved despite the long exposure to the elements. The cold nights and relatively low daytime temperatures slowed decomposition.
The pockets of the girl's clothing had been emptied, apparently to prevent identification, but the ring remained on her finger.
In his ruling, Dr. Kolozsi termed it "homicide," and added the customary finding -- in cases of unsolved murders -- that it occurred "at the hands of a party or parties unknown."
The investigating officers interviewed 45 to 50 people last night, most of them acquaintances of the girl who supply details of her background or had seen her on the streets in the last week or 10 days.
Among those interviewed by the officers was the girl's estranged husband, who resides on Pennsylvania Avenue Ext. He said he saw her last on November 4 in a tavern. His wife was unaccompanied and spoke with her briefly, Boyd related.
"She asked me: 'How are things going?' and I told her okay" he related.
Chief Radeschi recalled an occasion about six weeks ago when Boyd was served with a warrant alleging non-support which had been issued out of juvenile court.
When Boyd was notified of the charge, he replied that he had been helping support his wife and child and added: "I took a load of groceries to her this morning," the chief related.
At one time in their marriage, the young couple resided on Pennsylvania Avenue, Ext. Later, they moved in with Mrs. Boyd's parents. At the time they separated, they were living in separate quarters, possibly an apartment, adjoining the Chandler home.
As he prepared to confer with the Sheriff this morning, the chief said the authorities held no one as a result of the investigation last night, either as a suspect or material witness.
The investigation disclosed at one time Mrs. Boyd worked at the bus terminal restaurant and the she also had taken jobs as a baby-sitter, the chief said.
Hall described his niece as a "good girl" and said that when she stayed a friend's home overnight she invariably phoned her parents of her intentions.
When she did not return after going out that Saturday, the family began phoning friends and acquaintances.
Unsuccessful in tracing her whereabouts, they finally advised tri-state police departments about Tuesday, November 7, that she was missing. A snapshot of the girl was left with Midland and Chester police, the Hancock County Sheriff's office, the Columbiana County Sheriff's office, and East Liverpool police. The picture was taken when she was a junior high student in 1958–59.
She left East Liverpool High School when she was married at 16. She became a mother when 17, and leaves 11-month-old daughter. She and her husband separated in August.
Mrs. Hall said her niece left home that Saturday afternoon planning on going downtown. She was seen later in the day in a restaurant and that evening was that Higgs Inn where brother, electricians mate second class Franklin Chandler, spoke to her as she was dancing with friends. He said she was unaccompanied.
The family denied she was seen as late as November 8, as had been reported.
However, the investigation by the Sheriff and the chief last night turned up a woman who said definitely that she saw the girl November 8 at 10 a. m. In the downtown area. The woman said she stopped and talked briefly with the girl, she said
As far as has been determined, it was the last time she was seen by a person acquainted with her, the chief said. Many witnesses have been found who reported seeing her on November 4, the day she disappeared, the chief said.
Despite an all out effort, it has not been determined where the girl was from the time she left the home of her uncle and aunt until the time she met her death, chief added.
Apparently she vanished after leaving the tavern.
Her mother returned home from city hospital November 5 after treatment for her heart condition and the girl at visited her daily the preceding week, the family said.
Her brother returned to the San Diego Navy base class Monday after a 30-day leave it home.
Mrs. Boyd was born in East Liverpool April 11, 1943, two Frank E. Chandler and Alice Tasker Chandler and attended the first church of the Nazarene.
Besides her parents, she leaves her husband of East Liverpool; the daughter, Tania Lou Boyd at home, and a brother with the Navy.
Services will be held Friday at 2 p. m. At the Dawson funeral home by the Rev. James Hunton. Burial will be in Columbiana County Memorial Park.
---